A CIRCUS LIFE – DVD coming soon!
A CIRCUS LIFE – DVD coming soon!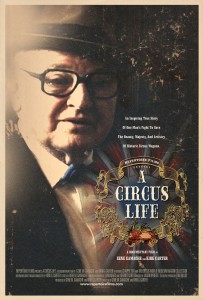 For distribution or more information contact:
Gene Gamache – gene_repfilms@me.com
Roger Rapoport – roger@waterwalkthemovie.com
Muskegon, MI – "A CIRCUS LIFE" – Friday October 25th 7pm – Harbor Cinema, Filmmaker Q&A to follow screening.
Michigan, Frankfort Film Festival 2013 – "HOUDINI" Saturday Oct. 26 – 4pm Garden Theater. Filmmaker Q&A to follow screening.
Baraboo, Wisconsin July 27th – Al Ringling Theater – One Screening of "A Circus Life" Filmmaker Q&A to follow screening – Time to be announced.
Milwaukee, Wisconsin June 11th – Landmark Oriental Theater – 7pm screening of "A Circus Life"  Filmmaker Q&A to follow screening.
Birmingham, Michigan June 7th – June 13th – One week run at Birmingham 8 Theaters – Filmmaker Q&A for Friday (7pm) and Saturday Shows  ("Houdini" and "A Circus Life" both films for one admission)  Check theater for show times.
Indianapolis, Indiana May 28th – Goodrich Hamilton 16 Theaters – 7pm – One Show Only with Filmmaker Q&A  ("A Circus Life" and "Houdini" both films for one admission)
Film Synopsis and Trailers
Gene M. Gamache
Gene graduated from the University of Iowa with a BA in film production in 1986.  He then moved to Hollywood to pursue a career in Motion Pictures.  After arriving in L.A., he landed a job at a top motion picture advertising agency and began editing movie trailers.  Over the last 25 years, Gene has worked on campaigns for such movies as Men in Black, Ghost,  Braveheart, Forrest Gump, The Rock, Jurassic Park 3, Marley and Me, The Descendants and Shame.  He has won seven Key Art Awards from the Hollywood Reporters annual competition for motion picture advertising.
In 2001, Gene created a production company, Repertoire Films, and produced, directed and edited the award winning documentary film "Houdini". Gene enlisted the talents of a college friend and writer, Kirk G. Carter to complete the film.  Following the success of "Houdini" Gene and Kirk produced and directed the documentary film "A Circus Life".
After finishing the documentary film "Houdini", Gene became a magician member of the prestigious Magic Castle in Hollywood California.  Over the last 15 years, Gene has been invited as an inner circle guest at the Official Houdini Séance held annually on October 31st — the anniversary of Houdini's death.
In 2011, Gene began working as an in-house editor for Fox Searchlight Pictures, to create marketing materials for Fox Searchlight's many award winning films.
Gene is married to American Actress Lindsay McDonald.  They recently had their first child, a baby boy named Remy.
Kirk G. Carter
A graduate of the University of Iowa in 1986 with a degree in Motion Picture and Television Production, Kirk has worked in the Television Industry for many years. He worked on the writing staff of the Emmy award-winning drama L.A.LAW and has made documentary films for cable television, among them the biography Houdini on which he was the writer and co-producer. Kirk followed his collaboration on Houdini with friend and fellow-filmmaker, Gene Gamache, with the feature-length documentary A Circus Life, which he co-produced, co-directed, and wrote.
Additionally, he wrote, directed, co-produced, and edited the feature-length documentary Path of Most Resistance: The Brief Public Life of Victoria Woodhull, which looks at the life of the first woman to run for president in 1872 – fifty years before women won the right to vote. The film includes some wonderful interviews with Naomi Wolf, Ellen Goodman, Pat Morrison, and Geraldine Ferraro.
Along with his work in the Television Industry, Kirk is also an accomplished fine art, commercial, and sports photographer. He owns and runs Greeno Photography. His work can be seen at www.greenophotography.com.
To add blog posts click on Posts – Add New in the WordPress Dashboard
Recent Posts
Arrived in Detroit early Thursday morning for first week of screenings at Birmingham 8.  The good people of Detroit have been very receptive to hearing about my documentary films "Houdini" and "A Circus Life" showing this week at the Birmingham 8 theater June 7th -13th – One Week Only!  It's especially exciting to be in Detroit as this is the place that Houdini died Oct 31st 1926 at the Grace hospital.  Most people don't know he died here and it mysteriously happened on Halloween.  The film sheds light on many of the Houdini mysteries.
One of the highlights today was meeting up with a high school friend Missy Ziniti who lives in Detroit. We hadn't seen each other in 30 years so it was great fun to catch up on our lives.
This afternoon I did an interview with WDET radio for the The Craig Fahle Show.  Craig is very knowledgeable about the subject of Houdini and was a pleasure to talk with in studio. The interview will run tomorrow morning around 10am centeral time on Craig's show which broadcasts on the FM dial at 101.9 MHz.
Friday morning I'm doing a live TV interview with Lee Thompson on Fox 2 Detroit.  Looking forward to meeting Lee and talking about the documentary films.
Hope to see lots of people at the show Friday night 7pm and 10:15 show and I will be doing Q&A following the shows Friday and Saturday.  Here is a link to buy tickets:
http://tinyurl.com/knllxcv
For any folks interested, I will be brining two pair of Houdini handcuffs owned by the great Houdini along with a copy of his two birth certificates and death certificate.  Come early to the theater and stop by and say hi.
Gene Gamache
Director and Producer of "Houdini" and "A Circus Life"